Keineged an nor

"Our adventurous hero promptly dashed in the castle, with absolutely no chance of survival."
‐ Minstrel song.

Click wisely and find your way through the unforgiving rooms of this small but unsafe palace...
Be prepared for a parody of medieval journey, and most of all prepare to face roughly 30 bad endings, some good ending(s), and special ending(s)!
5 music tracks will take you along this deadly expedition!


Controls:
Use your mouse to interact (the mouse pointer will change) Only LEFT mouse button is needed
You may also need your keyboard sometimes ( Z or X )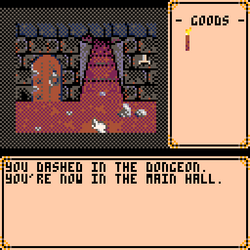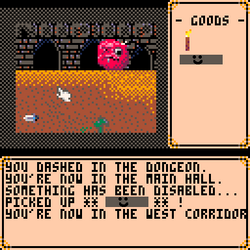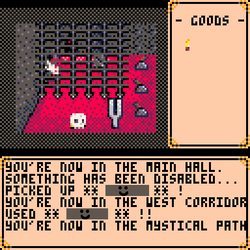 - Inspired by the game Shadowgate (NES version) -

You're stuck ?
There is a hint page which might help you. However please note that it contains SPOILERS! It is broken down in several categories so that you could only use the tiniest necessary section, and only if REALLY NEEDED: ==> http://anto80.free.fr/?id=keineged-hints


You're good ?
[Speedrun] Know that you can complete this game in less than 30 seconds (even the perfect ending).


You liked this game ?
Please share your best times in the comments.
I would also really appreciate if you click on "support this game".
Thanks for playing!


You want to write/stream something about this game?
Look at this presskit where you can download GIFs, read the story behind, full description etc...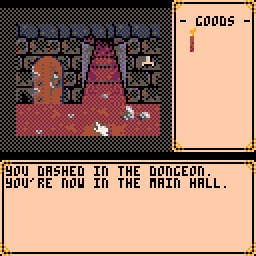 From a learning perspective
This game was made with the wonderful Pico-8 engine.
In this pico-8 source code you will find examples of:
- Mouse management (position, click , hover, hold, and multiple mouse cursors)
- Cartridge data management : save/load scores and stats (filedata can be stored in browser cookie!)
- Linerays and flare effects (during title screen)
** Bonus: .p8 file also contains unused music and sound assets! **
To access to the source code you need to support by donating at least $1 USD.


Special thanks to...
Sylk for Excellent English proofreading, betatest, and good specific ideas. The third Scorpion is fully dedicated to You. *** You rock!! ***


Reviews
"Keineged an nor is an adventure game of high speed experimentation that will result in many a goofy end, but its silly deaths make for a great deal of fun. Figuring out the one route on each screen that won't kill you offers frequent laughs at the absurd ways one can pass on."
— Joel Couture on IndieGames+
Download
Click download now to get access to the following files:
keineged-sprites-cover-green.png
3 kB
keineged-sprites-cover-transparent.png
3 kB
keineged-3rooms-example-cycle_256_256.gif
17 kB
keineged-3rooms-title-cycle_256_256.gif
1 MB
keineged-title0_128_50 copy.png
2 kB
keineged-title0_768_300 copy.png
10 kB
keineged.1.7.53.p8 (Pico-8 source code)
93 kB
if you pay $1 USD or more
keineged.1.7.53.p8.png (Pico-8 source code)
60 kB
if you pay $1 USD or more