Sausages Everywhere
Wait what ??!
It's barbecue time! Let's feed every starving customers !
Now play as the cook and use your mouse to pick the sausages, but only when enough done! Otherwise they'll be too raw!

Don't wait too long or they will burn...
Beware of the jumping sausages...
Sausages cooking intensity - Ranking

Raw - Rare -
Medium -
Well -
WELL DONE
Burnt -
DEAD
Meat consideration
When the « sausage fest is over », you may have a minute to think about all the meat in these sausages that have been harmly spoiled only to nourish some hungry people who immediately go away and never come back...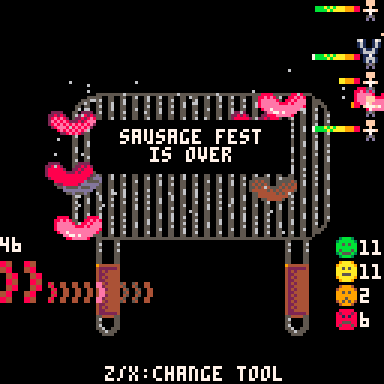 From a technical point of view
A BBQ test game made in ~ 12h.
A #Pico-8 cartridge.